456 pages, $28.95
Where to Buy

Atlanta Bookstores
Judaica Corner
2185 Briarcliff Rd.
Atlanta, GA 30329
(404) 636-2473
Blue Elephant Bookshop
2091 N. Decatur Road
Decatur, GA 30333
(404) 728-8958
Tall Tales
2105 Lavista Rd., #108
Atlanta, GA 30329
(404) 636-2498
Chosen Treasures
175 Mount Vernon Hwy
Sandy Springs, GA 30328
(404) 843-1933

Chapters

Preface

One
accountants portrayed in popular culture

Two
death from overwork

Three
accountants' glamorous world

Four
history of accounting
"Sarbanes-Oxley Blues," words and music written by Headwaters Co-Founder & Chairman Dave Maney

Five
evil taxers

Six
U.S. tax history

Seven
IRS history

Eight
Al Capone, FDR, LBJ, MLK, Watergate

Nine
Sex of a Hippopotamus

Ten
Tax Court

Eleven
tax return publicity

Twelve
famous wealthy people

Notes

Index

Irving Berlin's Tax Song

Prior to World War II, the income tax only affected the elite. The exemptions were generous, thus sparing the majority of the population from its reach. In order to win public acceptance of a the war emergency income tax that affected the masses the government enlisted the entertainment industry.

At Treasury Secretary Henry Morganthauís request, Irving Berlin wrote a flag-waving propaganda song, ďI Paid My Income Tax Today,Ē which was announced at the end of January 1942. It complimented ďAny Bonds Today,Ē Berlinís 1941 patriotic song popularized by the Andrew Sisters. Treasury sent copies of the recording to radio stations throughout the country for broadcast. Naturally, the song didnít become a hit. Today, itís one the rarest of Berlinís sheet music with equally rare Decca and Victor 78 RPM recordings. Berlin had difficulty writing the lyrics. The Decca version begins:
I paid my income tax today.
Iím only one of millions more
Whose income never was taxed before.
A tax Iím very glad to pay.


If your PC is missing the plugin, click here to listen to this snippet by Dick Robertson and His Orchestra; Vocal chorus by Dick Robertson and The American Four Fox Trot (Decca 4151).

Holographs for the song at the Library of Congress show the third line originally read, ďWhoíve never paid a tax before,Ē which is too taunting to be patriotic. ďA tax Iím very glad to pay,Ē was crossed out in his draft, then reinserted.

Later versions of the song recorded by Barry Wood and a vocal quartet (Victor 27760) and another by Danny Kaye sing this verse as:
I paid my income tax today.
I never felt so proud before
To be right there with the millions more,
Who paid their income tax today.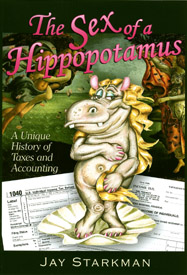 The Treasury press release and sheet music are available at the National Archives.

Walt Disney got into the taxing spirit by producing a 1942 propaganda cartoon, The New Spirit. It promoted timely filing and payment of federal income taxes, demonstrated by Donald Duck's patriotic filing of his tax return. Disney produced a sequel, The Spirit of '43 with Donald Duck again promoting acceptance of higher taxes as a patriotic duty, with the slogans: "Taxes to bury the Axis." "Spend for the Axis or save for taxes?" "Taxes will keep democracy on the march."

Read more in Jay's article, 89 million unnecessary returns, and in his book: