456 pages, $28.95
Where to Buy

Atlanta Bookstores
Judaica Corner
2185 Briarcliff Rd.
Atlanta, GA 30329
(404) 636-2473
Blue Elephant Bookshop
2091 N. Decatur Road
Decatur, GA 30333
(404) 728-8958
Tall Tales
2105 Lavista Rd., #108
Atlanta, GA 30329
(404) 636-2498
Chosen Treasures
175 Mount Vernon Hwy
Sandy Springs, GA 30328
(404) 843-1933

Chapters

Preface

One
accountants portrayed in popular culture

Two
death from overwork

Three
accountants' glamorous world

Four
history of accounting
"Sarbanes-Oxley Blues," words and music written by Headwaters Co-Founder & Chairman Dave Maney

Five
evil taxers

Six
U.S. tax history

Seven
IRS history

Eight
Al Capone, FDR, LBJ, MLK, Watergate

Nine
Sex of a Hippopotamus

Ten
Tax Court

Eleven
tax return publicity

Twelve
famous wealthy people

Notes

Index

Jack Benny & Groucho Marx

Jack Benny and Groucho Marx both made a successul transition from radio to television. Though many biographies have been written about them, none provides the rich details you can learn from reading the cases they took to Tax Court.

Jack Benny's contract required him to provide, at his own expense, an 18-member orchestra. Groucho Marx was required to provide an 11-member orchestra. These were for AM radio broadcasts.

Ever wonder why cash prizes on Groucho's "You Bet Your Life" were so small? It's because they came out of Groucho's compensation, which wasn't that high to start with.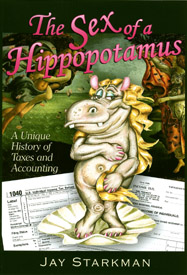 Click on the case links to discover what was required of them, what they earned, and the tax issues that landed both of them in Tax Court. The cases detail little-known facts about their radio history, sponsors, and how they jumped from radio to TV. Incidentally, they won!

There are many more fascinating details from tax records about public figures in: