456 pages, $28.95
Where to Buy

Atlanta Bookstores
Judaica Corner
2185 Briarcliff Rd.
Atlanta, GA 30329
(404) 636-2473
Blue Elephant Bookshop
2091 N. Decatur Road
Decatur, GA 30333
(404) 728-8958
Tall Tales
2105 Lavista Rd., #108
Atlanta, GA 30329
(404) 636-2498
Chosen Treasures
175 Mount Vernon Hwy
Sandy Springs, GA 30328
(404) 843-1933

Chapters

Preface

One
accountants portrayed in popular culture

Two
death from overwork

Three
accountants' glamorous world

Four
history of accounting
"Sarbanes-Oxley Blues," words and music written by Headwaters Co-Founder & Chairman Dave Maney

Five
evil taxers

Six
U.S. tax history

Seven
IRS history

Eight
Al Capone, FDR, LBJ, MLK, Watergate

Nine
Sex of a Hippopotamus

Ten
Tax Court

Eleven
tax return publicity

Twelve
famous wealthy people

Notes

Index

Barack Obama, Tariff Environmentalist

When he was a member of Senate, Barack Obama (D-IL) sat on the Environmental and Public Works Committee. As a staunch environmentalist, his presidential campaign website's Q&A included: "What is Senator Obama's position on environmental protection?" Among his accomplishments: "More than 400,000 children in the U.S. suffer from lead poisoning, which can cause major neurological problems. Obama led the fight to protect children at home and daycare centers from lead paint and introduced legislation to ban toys with lead."

Another touted accomplishment was his efforts to ban U.S. mercury exports. His website explained the problem: "Mercury is a neurotoxin that can cause serious developmental problems in children, ranging from severe birth defects to mental retardation. As many as 630,000 children born annually in the U.S. are at risk of neurological problems related to mercury. In adults, mercury can cause major neurological problems affecting vision, motor skills, blood pressure and fertility." Obama proposed restricting the export of products containing mercury.

That didnít prevent him from introducing 15 bills on May 25-26, 2006 proposing the suspension of tariffs on a host of hazardous chemicals that the Environmental Protection Agency labels as environmental toxins that cause cancer and birth defects. His proposals were enacted as part of two tax laws in 2006 with the common names of the compounds changed to their chemical formulas which made it hard to trace back to Obamaís original bills. The beneficiaries were Nufarm Ltd., an Australian chemical company, and Astellas Pharma Inc., a Japanese drug company. This cost the U.S. Treasury $12 million. Why would an environmentalist champion the cheap importation of dangerous environmental toxins? The Boston Globe suggested that Obama had longstanding cozy relationships with lobbyists and political action committees.

Obamaís changes were among nearly 200 tariff suspensions and reductions proposed by various members of Congress that were passed in the Pension Protection Act. His proposals were enacted as part of two tax laws in 2006 ≠ the Tax Relief and Health Care Act of 2006 (P.L. 109-432), and the Pension Protection Act of 2006 (P.L. 109-280).

Among the dangerous chemicals whose imports are encouraged by these laws are: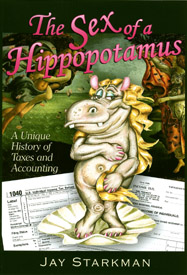 MMCPB, a suspected neurotoxin that may damage the kidney and liver
2-Methyl-4-chlorophenoxyacetic acid, suspected of damaging the kidney and liver
triphenyltin hydroxide, suspected of causing cancer and birth defects and
bromoxynil octonoate , possible carcinogen and source of birth defects, that is very toxic to fish.
Click here for a complete list of President Obama's successful tax legislation. There are more tax shenanigans of other presidents in: