456 pages, $28.95
Where to Buy

Atlanta Bookstores
Judaica Corner
2185 Briarcliff Rd.
Atlanta, GA 30329
(404) 636-2473
Blue Elephant Bookshop
2091 N. Decatur Road
Decatur, GA 30333
(404) 728-8958
Tall Tales
2105 Lavista Rd., #108
Atlanta, GA 30329
(404) 636-2498
Chosen Treasures
175 Mount Vernon Hwy
Sandy Springs, GA 30328
(404) 843-1933

Chapters

Preface

One
accountants portrayed in popular culture

Two
death from overwork

Three
accountants' glamorous world

Four
history of accounting
"Sarbanes-Oxley Blues," words and music written by Headwaters Co-Founder & Chairman Dave Maney

Five
evil taxers

Six
U.S. tax history

Seven
IRS history

Eight
Al Capone, FDR, LBJ, MLK, Watergate

Nine
Sex of a Hippopotamus

Ten
Tax Court

Eleven
tax return publicity

Twelve
famous wealthy people

Notes

Index

Anna Nicole Smith

Anna Nicole Smith was 26 when in 1994, she married 89-year-old wheelchair-bound billionaire oil tycoon, J. Howard Marshall II. The family explained that Marshall was distraught over the 1991 death of his wife, Bettye, when he met the young woman at a strip joint. Only, it didn't happen quite that way.


Bettye Marshall was diagnosed with early signs of Alzheimer's in 1982. That's when J. Howard hit the strip joints. There, the 77-year-old met 42-year-old Jewell Dianne ("Lady") Walker who was living with a boyfriend while still married to her fourth husband. Over the next nine years, he lavished over $15 million of gifts on her. Lady Walker died suddenly in 1991, a few months before Bettye. Then Marshall learned that she lived with two other lovers

throughout their relationship whom she kept hidden from him.

IRS found out about the gifts that Marshall gave Anna Nicole Smith and Lady Walker, resulting in Tax Court cases that settled without trial. Among the papers in the Tax Court files is the following undated letter, apparently written in 1991, from Marshall to his son:







Dear Pierce

This package relates to a wonderful lady — indeed her nick name is "Lady." Without her I don't quite know how I would have survived these last nine years. She is intelligent, gracious and beautiful as her picture will attest. I am sure you will understand where others might not. I would marry her tomorrow if there was any honorable way. If I predecease you, as a father who loves you, I charge you to take care of her in any way she may need — financially and in all ways. I know I can trust you.

Dad



J. Howard Marshall's will failed to provide for his wife. An estate battle ensued between Anna Nicole Smith and Marshall's son, Pierce. If J. Howard intended to provide for Lady Walker, whom he didn't marry, how much more so he would have intended to provide for his wife, Anna Nicole Smith.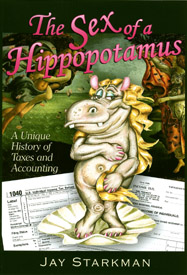 You can read a little about Marshall, Smith, and Walker in the Houston Press article, "Daddy's Money." You can learn about Marshall's stinginess with charities in the Wall Street Journal article, "College Finally Got Alumnus To Pledge; Next Job: Collecting."

But you'll only read about the Tax Court cases, a judge's opinion about the "Billionaire Without Character," and the rest of the story in: